Storm Hydroxis Special Edition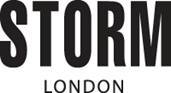 25th Anniversary Special Edition


A complex timepiece with dual time display. One standard three hand timezone featured on the upper left and an ingenious second timezone featured in linear progress bars. This is not a digital display, the red zones physically fill up and appear to retrograde back each cycle.

Due to their highly unusual display, you'll know right away if this is the watch for you...but don't miss out, these 25th Anniversary Editions from Storm will sell out fast!



 ​